News Articles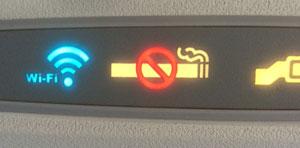 Avoid airlines with in-flight wireless, says EMF health advocate Camilla Rees, who notes an airline is a "metal cage" and is "an especially high risk environment for radiation." One airline providing on-board Wi-Fi is Delta.

"Using your cell phone in your car is dangerous and not just because it can cause an accident," he writes. "There's also a direct effect on your health.
"The radio frequency radiation from your cell phone reflected back by the car's metallic structure magnifies the radiation. It's called the Faraday cage effect. Would you consider sticking your head in a microwave oven when it's turned on? I don't think so.
"But using a cell phone in a car works on the same principles as a microwave oven. Both cars and microwave ovens are essentially metallic enclosures where RF radiation is magnified. This radiation from your cell phone bounces around your car and is absorbed by your body at a much higher level than would otherwise be."
Delta is Airline with Wi-Fi
We recently flew to Washington, D.C., and were surprised to find a Wi-Fi graphic offering Wi-Fi access facing us in the space above the seat where the usual messages are "Fasten your seat belt" or "No smoking."
In all flights we have ever been on, attendants had warned passengers to make sure cellphones were turned off or on "airplane mode."
Calls and emails have been sent to Kevin Shinkle, chief communications officer of Delta, who was business editor of the AP until 2014, and Elizabeth Wolf, general manager of corporate communications, asking how Wi-Fi can be permissible on airlines when it previously was prohibited. No replies had been received by press time.
Excerpt from Camilla Rees' list:
39. Airlines. Avoid airlines with in-flight wireless. As the airplane is in effect a metal cage, other than the small windows, this is an especially high-risk environment for radiation from any source, including cell phones. Ask flight attendants to contact the Association of Flight Attendants regarding this matter.